Artificial intelligence (AI) increasing hype and gained visibility is a well-versed term in start-ups as well as big brands. But the fact that implementing these technologies require other elements of high-quality data inputs, applied engineering concepts and most important of all Information Architecture plays vital role on the basis of which Artificial intelligence systems can be built.
Some people claim that unstructured information architecture can also result in success when it comes to Artificial intelligence, ML which can understand, interpret algorithms but that's not the case significant amount of manual hard work is required before these setups work their magic. Hence, to take advantage of Artificial intelligence tools you must prepare your organization to apply Information Architecture properly.
With IA providing the roadmap for execution process, methods to perform various activities like content curation. IA being applied to various unstructured data or partly structured data boost big data analytics. With unstructured data lagging hierarchies, missing tags and metadata results in time consumption and stimulus responses by Artificial intelligence system as it is expected that human functions should be reflected.
Content curation helps extract value from input data churning the complex data sets with continuous integration and classification. Improved IA helps curation process maximized efficiency, faster pattern identification and greater ROI/data item through reuse.
Due to the massive data collected from various sources creating a common view is very difficult task. Dividing the data into small chunks and then aligning them with a common data model will result into consistent structure.
Information architecture principles:-
With content curation being the vital information architecture principle providing methodical and technological approach for data quality issues and helping maintenance and optimized data usability structured Information architecture built of process is necessary. Have a look at activities involved in the CC process.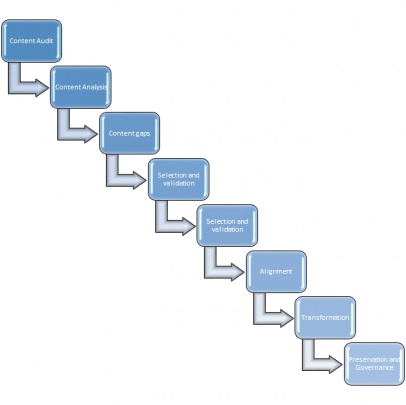 Source: WisdomPlexus
Content Audit:– Requirement gathering, evaluation of the data as per the set parameters and identifying the gaps and measurement in the content to determine usability of the data.
Content Analysis:– Analysis concepts, business rules, relationships in the content set metadata to provide astable organized structure to your content.
Content gaps:– Analysis and audit will determine gaps in the content and suggest additional sources to make the data more meaning full and optimized.
Selection and validation:-
It is essential to validate content under consideration which also needs to be selected on the basis of relevance and utility. Content validation being concerned with the authority that is trusted source of data and reviewing it.
Alignment andTransformation:- Aligning the data to a common form and categorizing it to common taxonomy is essential for data analysis and aggregation.
Preservation and Governance :- Data should show following preservation and governance characteristics-
Information architecture management and maintenance
Policies and procedures
Enforcement
With the structured Information architecture you can effectively apply AI or you can say that "There is No AI without IA."