Domo commissioned Forrester Consulting to conduct a Total Economic Impact™ (TEI) study and examine the potential return on investment (ROI) that enterprises may realize by deploying its business optimization platform. The purpose of this study is to provide readers with a framework to evaluate the potential financial impact of Domo on their organizations. Domo provides a platform that integrates data with user friendly and collaborative capabilities so that everyone in an organization can act using real-time information.
To better understand the benefits, costs, and risks associated with using Domo, Forrester interviewed four customers with multiple years of experience using Domo. The organizations included companies in media and entertainment, oil and gas, and telecommunications.
Domo's business optimization platform helps decision-makers access data in real time and make more rapid business decisions. The benefits for a composite organization, based on customer interviews, are:
 Increased revenue and profit by optimizing real-time data: $2.1 million.
Reduced cost of company operations: $2 million.
Productivity savings with self-service: $4.9 million.
DOMO INCREASES REVENUE BY MILLIONS OF DOLLARS PER YEAR

Forrester's interviews with four existing customers and subsequent financial analysis found that a composite organization based on these interviewed organizations experienced the risk-adjusted ROI, benefits, and costs. The
composite organization analysis points to benefits of more than $7.4 million versus costs of more than $1.8 million, adding up to a net present value (NPV) of more than $5.5 million.
Financial Summary
The financial results calculated in the Benefits and Costs sections can be used to determine the ROI, NPV, and payback period for the composite organization's investment in Domo. Table 9 below shows the risk-adjusted ROI, NPV, and payback period values. These values are determined by applying the risk-adjustment values from Table 8 in the Risks section to the unadjusted results in each relevant cost and benefit section.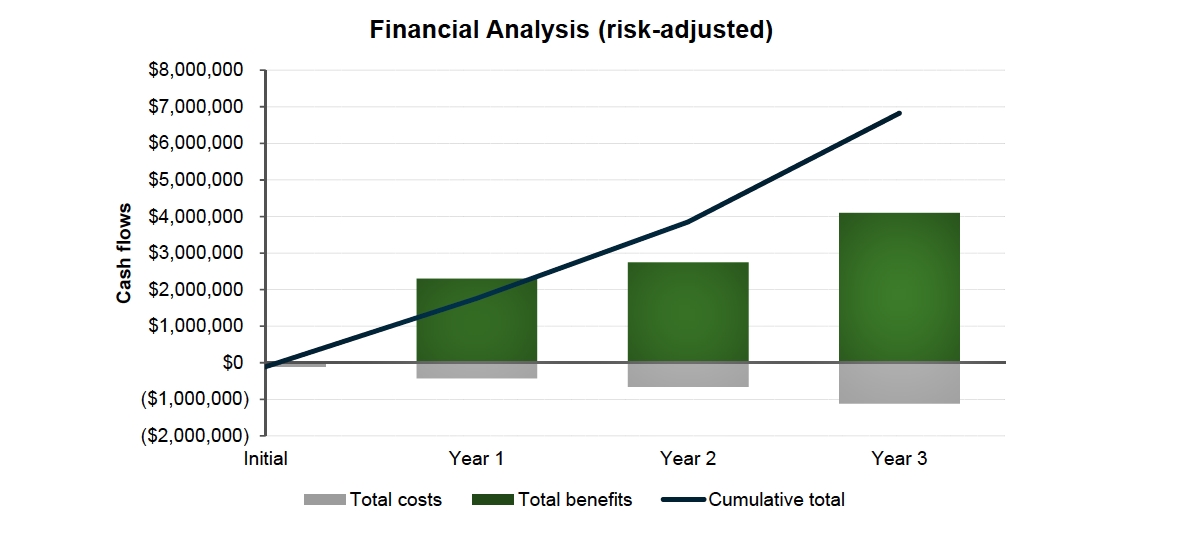 FLEXIBILITY
Flexibility, as defined by TEI, represents an investment in additional capacity or capability that could be turned into business benefit for some future additional investment. This provides an organization with the "right" or the ability to engage in future initiatives but not the obligation to do so. There are multiple scenarios in which a customer might choose to implement Domo and later realize additional uses and business opportunities.
RISKS
Forrester defines two types of risk associated with this analysis: "implementation risk" and "impact risk." Implementation risk is the risk that a proposed investment in Domo may deviate from the original or expected requirements, resulting in higher costs than anticipated. Impact risk refers to the risk that the business or technology needs of the organization may not be met by the investment in Domo, resulting in lower overall total benefits. The greater the uncertainty, the wider the potential range of outcomes for cost and benefit estimates.
Here's a sneak peek at the benefits of using Domo that Forrester uncovered from four in-depth customer interviews. Download this report to find out how Domo customers achieved 294% ROI over three years.
You May Also Like to Read:
7 ways to work better with the Cloud
Deploying IP/MPLS Communications Networks for Smart Grids