How AI powered Personalization can help businesses?
At any moment, anywhere in the world, on any kind of device, a prospect or customer is raising their hand and saying, "I'm your best opportunity. Don't ignore me." They're telling you that by every action they've taken and every interaction you've had up to that point. You can consider each bit of data you've collected across their journey a meaningful expression of intent. And with that, you will know how to give them an experience that's above their expectations and beyond their imagination.
When you can do that, it's magical. The flow feels seamless and natural to your customer. These in-the-moment, just-for-them experiences move with them from one touchpoint to another and keep them coming back for more. And as the experiences get better and better, so does the likelihood that they'll take the action you want. Because every customer wants an amazing experience, and every brand wants to deliver one. It thrills you as a marketer and helps you achieve your business goals.
Amazing means different things to different people — and that's the point. It's amazing when your customer wakes up to a breakfast tea blended exclusively for their tastes. When a digital stylist creates a killer outfit that takes into account their preferred colors and looks — and their date's. If the date can see photos of different shades of blush or lipstick on their face without ever trying them on. If a chatbot not only understands another customer's frustration over a service issue but can tailor the solution based on their past purchases and known preferences. And also, when a different customer opens her music service and unexpectedly hears a newly released single by their favorite artist.
Transcending human abilities.
To achieve experiences this enchanting, something has to make sense of all the customer interactions, all those signals, all that data. And we say some thing must sort it out because it's impossible for humans to achieve this level of wizardry. You can handle A/B testing to figure out which of two experiences is better for a customer. And you've used manual, rules-based or curated content approaches that depend on you to decide who gets which information when.
But with those approaches, you're simply meeting customer expectations, not going above and beyond. Without automation, you can't take into account the hundreds of variables that make each one of your customers unique. And yet you want them to opt in, to convert, to hit some kind of benchmark. Still, you struggle to determine which product to recommend, what content to show, how to tailor the experience for that one special person.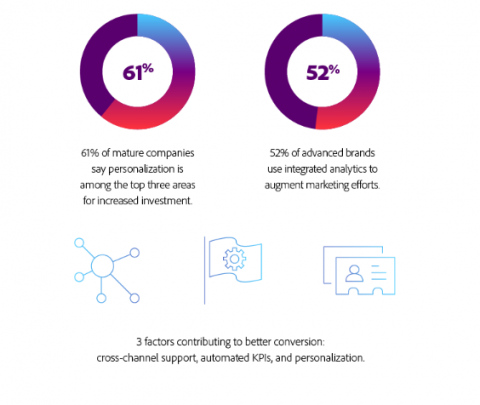 According to Forrester,
"By 2020, businesses that use AI and related technologies like machine learning and deep learning to uncover new insights will take $1.2 trillion each year from competitors that don't."
You may also like to Read:
4 Ways in which AIOps influences business operations
Six Ways in which AI can be useful for IT operations
Google Home v/s Amazon Echo? Which is Better?