Quick Tips to Save Time for Your Growing Business using Office 365
With respect to the ever-changing needs and challenges of your business, Office 365 is not just about the eye. Seems like, from BI programs to communication and teamwork solutions, the progress of these productivity tools is changing the way we live and work. And also, as your team's concerns revolve around topics like security, mobile device management or remote work, moving to the cloud can do more than ever for your growing business.
In this eBook, you will therefore learn how to make the most of specific Office 365 applications in six critical areas of your business. These areas are: mobility, teamwork, communication, security, productivity and knowledge.
Mobility takes business outside the office
Do you know how to add comments in Word on your phone or repair a PowerPoint presentation en route to a customer's desktop? What about connecting all members of your organization quickly and easily? Have you ever wanted to take brainstorming to the next level? In Office 365, you have all kinds of great features that help you work smarter, faster – and much more intuitively.
"The millennial generation has said that flexible work is a priority. Similarly we believe that when you respect people for who they are and how they work, it dramatically increases productivity. Consequently, by providing employees with Office 365 cloud-based components, we are able to create a more fluid and flexible approach to the physical workplace. "
In conclusion, this e-book will furthermore unlock secret features and features that you can immediately put to work in your business. You will get practical advice and procedures in six critical areas to: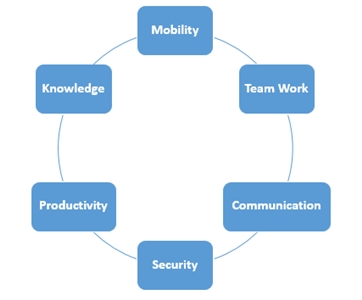 Get mobility that allows you to do business outside the office and hence around the world
Work together without constraints
Take communication to the next level
Increase efficiency with technology that works
Protect data without sacrificing productivity
Unleash the power of data quickly and easily
Hence, Microsoft 365 Business offers a single, integrated technology solution designed for growing businesses. As a result, it empowers your employees to communicate, collaborate and do amazing work. And also, it protects your data without bogging you down with complex IT management or expensive on-premises equipment.
Related Posts: –
7 ways to work better with the Cloud
Seven Best Practices for Implementing Digital Transaction Management