For businesses that rely on a fleet of drivers and vehicles to service customers, complete jobs and bring in revenue, tracking your assets is a top priority. Knowing how well your drivers and technicians are performing when they're behind the wheel of a company vehicle and on a job site is critical information .
Most businesses – no matter the size or industry – rely on some form of technology to help them evaluate their work performance and identify where improvement is needed. The same goes for GPS fleet tracking, which can help you easily track and access driver behavior, vehicle location, speed, distance traveled, routes taken and any fleet-related costs.
Measure cost savings & revenue growth – You can't afford not to have it. Small, everyday activities can have long-reaching effects on your business that are more impactful than you might think. Tardiness, poor routing, even inaccuracies in payroll can impact overall operations, customer service and your bottom line.
Discover your options – A GPS fleet tracking solution can help you monitor your fleet. No matter how many drivers and vehicles you manage, a GPS fleet tracking solution can provide actionable insights that help you make impactful business decisions.
Deciding which solution is the best fit for your business can be tough.
The best way to start is by identifying your specific business needs and goals. Here are a few questions to ask yourself to as you get started: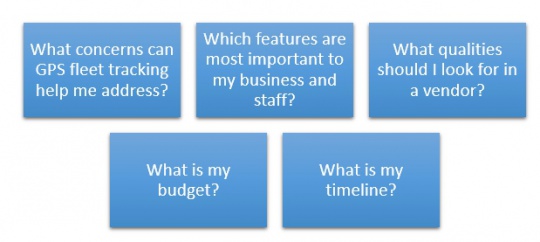 What concerns can GPS fleet tracking help me address?
Decide on a few specific goals you want to achieve with your GPS fleet tracking solution, like improving driver safety or reducing fuel costs.
Which features are most important to my business and staff?
Determine what features you think you and your staff will interact with most. A strong mapping feature is often the #1 feature used in a GPS fleet tracking solution but there is also reports, dashboards, benchmarking, trending and alert functionality that can help you manage your fleet.
What qualities should I look for in a vendor?
It's important to work with a vendor that understands your management and goals –  they should be a true partner. Your encounters with various vendors and their support staff will give you a good sense of whether you "click" and that you're more than just a sale. Make a list of your ideal vendor's qualities and use it to narrow down your choices.
What is my budget?
Knowing how much you can spend on a monthly and annual basis is also important when choosing the right vendor and solution.Though it's important not to compromise quality for cost, it's also important not to overextend your budget to the point where you feel uncomfortable with the overall spend.
What is my timeline?
Implementing a GPS fleet tracking solution can take time. If you have a date or time frame in mind that you'd like the solution to go live, communicate that during the demo process to make sure the vendor can accommodate you. A vendor should be able to work around your needs and schedule.
Plan for implementation Implementing a GPS fleet tracking solution takes time – especially if you want to do it right.Clear and open communication can help take your employees from skeptical to excited.
Final thoughts Once you implement a GPS fleet tracking solution, you'll be eager to see results as quickly as possible. Some results may come quickly – think safety, fuel spend and payroll – but others will take a bit longer to see and feel. Having patience is key. Set your benchmarks, communicate your goals and put plans and policies in place to help make your telematics solution more effective .
You may also like to Read: Acquisition vs. Retention: Where Should Brands Focus?