The Growing Emphasis on Digitalization.
Research shows that consumers across every sector of the economy naturally expect to do Digitalization of Business, with 88% of consumers now expecting to complete transactions digitally. Companies that can't meet these demands will rapidly lose ground to the competition and see revenues shrink. So, what can your business do to keep up with the pace?
With every week that passes, our dependency on paper wanes as digital processes are introduced into every aspect of our daily activity. If you want to sign a contract, book a restaurant or make a bank transfer, you can do so digitally – it is ingrained in our lives.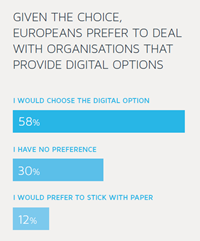 How to overcome the challenges faced by Businesses?
Taking an entire business digital can be more challenging and reliant on many more moving parts. Identifying how businesses are evolving to meet these rapidly changing demands is essential for decision makers across all sectors of the economy to prepare their organisation or department accordingly to undertake successful digital transformations.
There are positive signs of digital transformation taking effect throughout the continent but there still remains much to be done. The introduction of the eIDAS regulation in July 2016, designed to ease the cross-border use of electronic identification systems across the EU, has certainly been a step in the right direction towards the EU's ideal of the Digital Single Market, but it is not a silver bullet in itself. Each and every business must take a level of responsibility for digitizing operations and fortunately, many recognize this fact.
How does this eBook help in digitising your business?
This eBook investigates digital expectations from both the consumer and business perspectives. It identifies what action is being taken to meet the demand in the market and where the main challenges lie for businesses that are trying to deliver the digital experience their customers want.
The Impact of Digitalization:
According to some of the experts in the European Industry, Docusign has helped them a lot in ensuring the seamless transition to digitalisation.
"We were very surprised by the customers' eagerness for electronic signatures. It has greatly improved our transformation rates throughout the process and has shortened the processing time significantly."
Marc Lanvin,Directeur des réseaux web, Banque Casino.
"DocuSign has revolutionised how we send out HR contracts at E.ON. The fastest we've completed a transaction is ten minutes with DocuSign."
Matthew Brady, HR Administration, Team Manager, E.ON
Download this e-Book to make smooth transition to digitalisation.
You may also like to Read: Solution Checklist for Enterprise Content Management (ECM)