Cisco's marketing team has invested massively in technology over the past two years. This $50 million investment in software has put Cisco at the leading edge of B2B technology marketing. Above all, 40 new applications have been put in place, creating one of the most sophisticated marketing technology stacks in the industry, resembling the more consumer oriented Amazon, Google, and Facebook. This investment has earned Cisco's marketing team plaudits and several industry awards.
This is how Cisco Conceptualizes its marketing technology: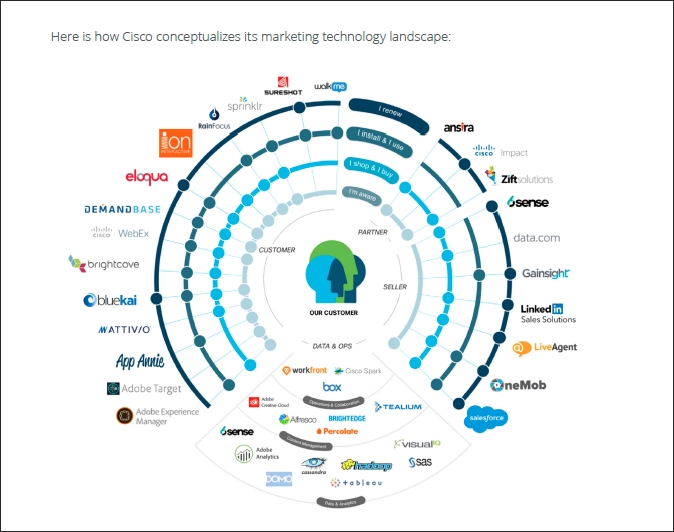 Why the transformation? CMO Karen Walker cites three primary drivers: "First, Cisco is transitioning from a hardware provider to a software and services business. Second, a lot of research shows that business buyers are acting much more like consumers. And third, marketing technology has truly arrived.
Since, marketing is expensive, so it's imperative that we know which content and activities are performing well and which are not."Above all, Cisco can readily see that the way that business buyers are behaving increasingly resembles that of consumers. Digital marketing has increasingly favorable attention economics. But it's our responsibility to better understand and orchestrate the customer's journey. If we can understand what's going on digitally, marketing and sales will together be able to increase mindshare.
Domo's role
Domo has emerged as one of Cisco's nine core marketing platforms. And also, it has played a substantial role in the company's digital marketing transformation. It is the visual layer tying all systems together, giving 1,200+ Cisco marketers a single place to view, collaborate and also make decisions based on their data. Virtually all of Cisco's marketing systems feed into Domo, plus dozens of external cloud services. All told, Domo handles over 500 million rows of data for Cisco.
What's next for Cisco?
Cisco's world-class marketing function continues to evolve to better serve customers. Hence, the impressive work of the last two years is only the beginning.
Read this report to explore the "Cisco's Digital Marketing Transformation Journey" and learn the Cisco's marketing strategy.
You May Also Like to Read:
7 ways to work better with the Cloud