Application security guide
Each year, the Software Security Research (SSR) team at Micro Focus releases a report on the current state of application security risks A single weak point in a line of code can create an open door for attackers and possibly neutralize all other security measures. This application security risk report exclusively focuses on vulnerabilities in software.
The 2017 report highlights the current trends and trending attacks in application security so that AppSec professionals and software developers can better understand the present risks. Knowing these risks helps make better informed decisions regarding AppSec in their software development lifecycle (SDLC) and security of their applications.
Key Concerns
A single weak point in a line of code can create an open door for attackers.Our researchers have identified the top five app security risk that threaten your business:
Open Source Dependency
Enterprises continue to increase their dependence upon open source.While open source can reduce costs, effort must still be exerted to ensure that it has been tested to be free of serious vulnerabilities.
Lengthy Exposure to Zero-Days
There can be significant gaps between when a vulnerability is discovered and when a patch becomes available.Even a prompt patch management program can leave enterprises vulnerable for months.During the time period when a researcher collaborates with a company to help their developers address a disclosed vulnerability, others may independently find, and potentially maliciously use, the same vulnerability.
Costly Remediation
Removing security flaws gets more time consuming and expensive the longer they live in code. Removing vulnerabilities and preventing new ones from being introduced during development keep developers focused on delivering innovation.
Developers Repeat Mistakes
Whether discussing mobile, web, or desktop applications, data analysis indicates that developers continue to inject the same critical bugs into their code.
Remediation Efforts and Impact of DevOps Need to Be Considered When Scheduling Security Assurance
As companies move to integrate and automate security scans as part of CI/CD, shorter remediation times increase the confidence that projects can be delivered on time while addressing security concerns.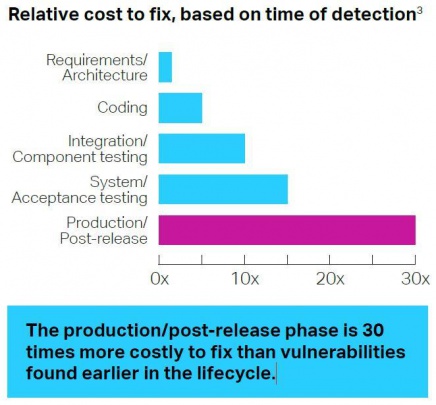 Download this report now to read to stay current with application security risks and learn more about the top five application security risks that threaten your business.
You may also like to Read: Machine Learning and AI to Change Responsive Web Design