A fim de acompanhar a digitalização, novas tecnologias, leis e regulamentações, as funções das equipes CISOs e InfoSec estão evoluindo. Nos próximos anos, enquanto os CISOs passam cada vez mais a fazer parte das equipes executivas, a sobrecarga de áreas, cuja responsabilidade já foi unicamente deles, passa a ser de outros membros de suas equipes em crescimento, e novas prioridades surgirão.
O CISO de hoje
Ao longo da última década, a função do CISO evoluiu para acompanhar as ameaças dinâmicas e o ambiente regulatório atuais. Diante da necessidade de diversificar sua qualificação, incluindo conhecimento técnico e aptidão para gerenciamento de equipe e análise de riscos de negócios, estes líderes CISOs vieram de diferentes setores. Desde profissionais militares experientes que procuram uma mudança de carreira até líderes técnicos em busca de novos setores, os CISOs não são parecidos entre si. Conforme destacado em "The Rise of the Chief Information Security Officer," os CISOs se encaixam mais comumente em um dos seguintes arquétipos: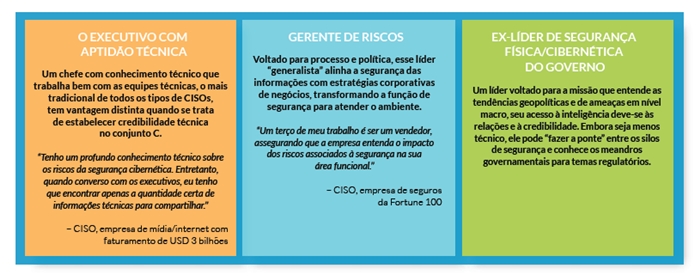 O modelo e as prioridades de cada empresa, bem como a forma como cada empresa pensa em seus cargos funcionais, têm influência significativa sobre qual tipo de CISO é mais adequado para o ambiente. Por exemplo, uma grande organização financeira, com várias unidades de negócios, provavelmente acreditaria que o "gerent de riscos" poderia atender melhor suas necessidades, pois essa pessoa precisaria trabalhar em todas as frentes para entender as diferentes dimensões dos riscos. Na área de espaço aéreo e defesa, que é altamente conduzida pela engenharia, julgaria que o "executivo com aptidão técnica" deveria assumir uma posição principal para estabelecer credibilidade junto aos acionistas.
Conclusão
O risco cibernético atinge todas as áreas de uma empresa moderna, e a importância dos CISOs e das equipes de InfoSec está crescendo. Independentemente de como essas funções evoluem em uma ou outra organização, os CISOs sempre precisarão voltar à mesma questão básica: o que devemos fazer para ajudar a manter nossa empresa segura e próspera.